A different kind of social media analytics solution
CloudScope has so many unique features. Follow along and learn more.
Detailed Twitter information
CloudScope gives you deep insight into the community around your Twitter account.
Tweets
Track how your followers engage with your Tweets through likes and retweets.
Identify which hashtags you use and which generate the most engagement.
Track the media you use in tweets and measure user response.
View your tweet information using a rich, Twitter-like display that includes media.
Monitor your tweet activity against weekly or monthly goals to stay engaged.
Create watch accounts and compare your Twitter activity against your competitors.
Use the information to engage with your followers and increase your Twitter impact.
Mentions
Learn when your account is being mentioned anywhere on Twitter, even among users who aren't following you.
Identify the discussions that are attracting the highest engagement through likes and retweets.
View Twitter mentions using a map display to visualize your worldwide audience.
Find new opportunities to engage with the Twitter community.
Followers
Identify the top influencers among your followers.
Learn more about your followers, including their language preferences, timezone, account age and activity level.
Identify when followers leave your account so you can monitor and take corrective action.
Monitor your follower growth against weekly or monthly goals to ensure your community keeps growing.
View your followers using a rich, Twitter-like display that includes profile information.
Use the information to engage with your followers and increase your Twitter impact.
Following
Show which accounts you follow and their influence.
Identify which accounts you follow aren't following you back.
Compare
Compare your account against similar or competitor accounts you want to watch.
Compare two or more accounts directly using account activity and engagement data.
Complete integration with Microsoft Power BI
Power BI is a powerful, feature-rich anaytics platform that allows easy data exploration by end-users that's taking the data visualization world by storm.
Power BI desktop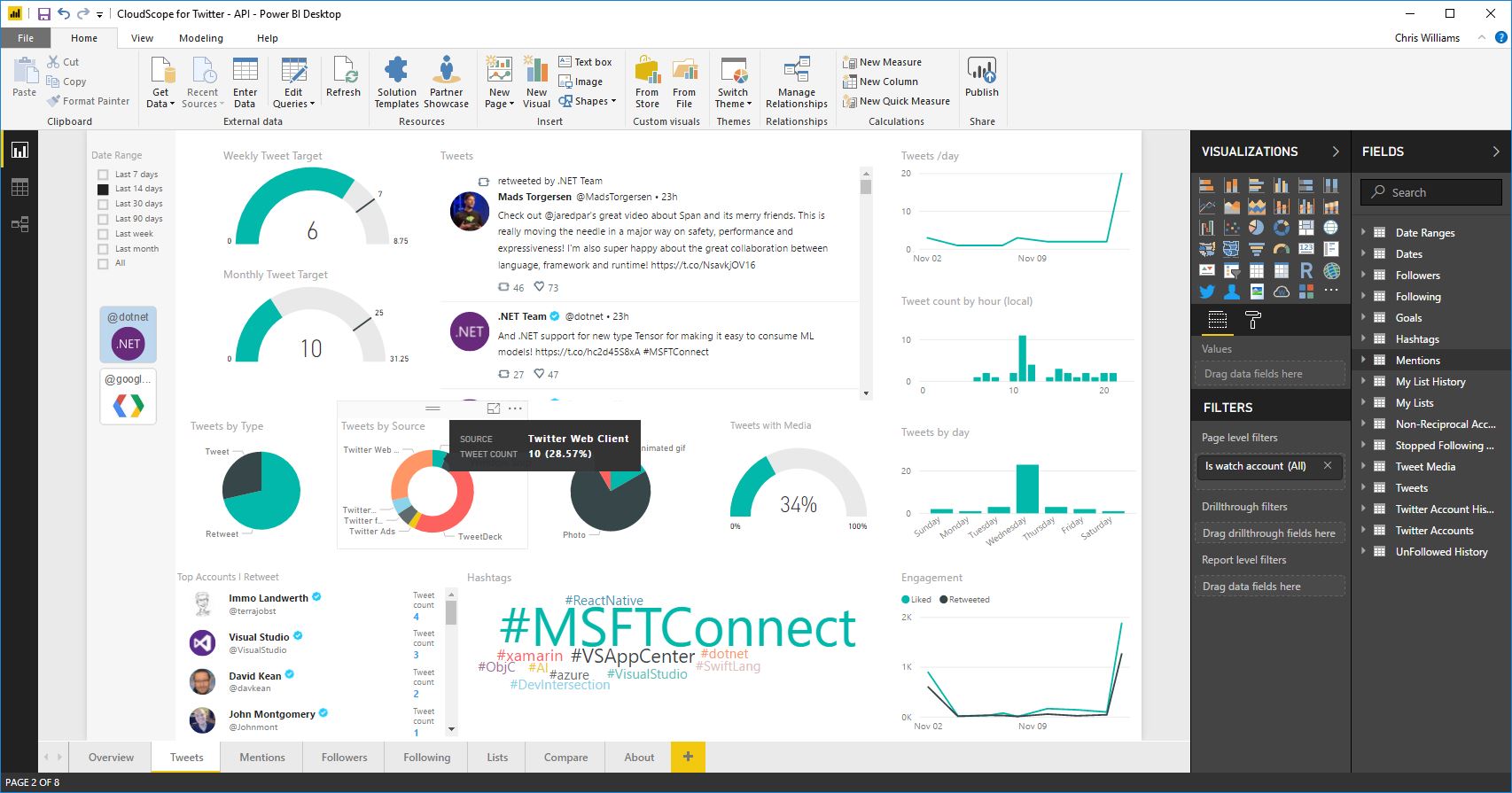 Broad choice of clients — desktop application, mobile devices or web.
No extra cost. CloudScope works with Power BI free accounts and web displays and can also use existing Power BI accounts.
End users can easily customize the visualizations to meet their own needs.
Completely open access to data. You can easily build or modify a visualization using any field in our well-designed model. You can also access your data using the CloudScope API.
An enterprise solution
We've built this app with the scalability and security features that large organizations require.
Scalability
Support for the largest Twitter accounts. Do you have millions of Twitter followers? Choose us. We can handle whatever you bring.
Dedicated databases for customers that demand the highest security and flexibility.
Each CloudScope account can manage multiple Twitter accounts. Perfect for large organizations or agencies.
Security
CloudScope accounts do not store passwords. We use Twitter or Microsoft authentication to provide access to your account.
Cloudscope supports multiple users and security roles. Assign Account Owner, Report Editor or Report Viewer account roles.
Built on the Microsoft Azure platform, which fully complies with ISO-9001 and other security and compliance standards throughout the world